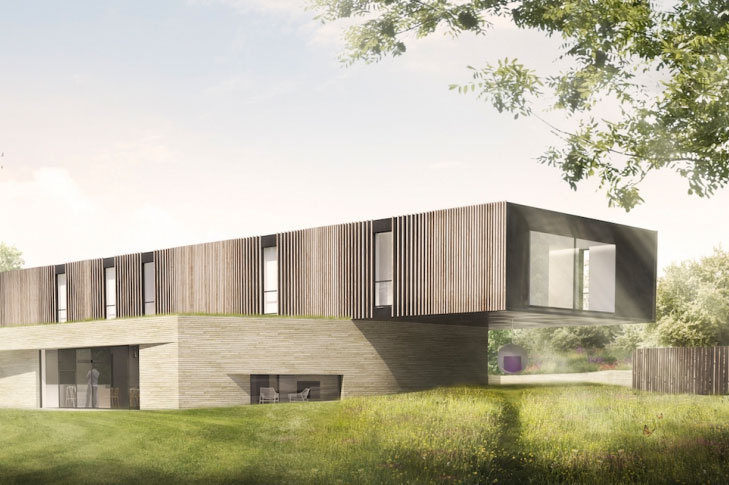 Back to Case Studies
Claywood House, Nateley Scures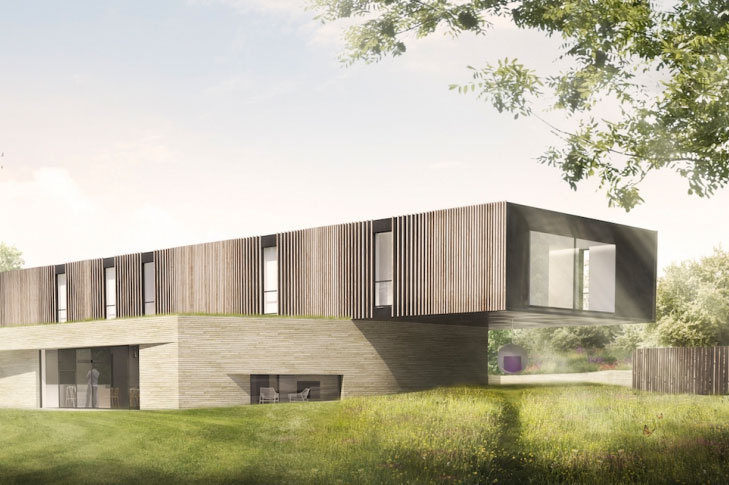 Client: Private Client
Architect: Ayre Chamblain Guant
Principal Contractor: R Durtnell & Sons Ltd
Completion Date: March 2019
Form of Contract: Design & Build
Approximate Value: £2.2 million
Project Description
New 5-bedroom home, set within an existing orchard garden, designed to meet the needs of the recently wheelchair bound client to create a home that allows independent living.  The house includes an guest suite, indoor swimming pool, therapy room and snooker room.
The design is built into the landscape responding to the complex geometry of the topography, existing arboriculture and the site boundary, working with the slope of the site to reduce the visual impact to the surrounding area.
The building is cut into the existing slope requiring considerable excavation to formation level and design of associated permanent retaining walls.
Drawing on the site's proximity to adjacent historic brickworks, the design rises from the ground in heavy earth tone brick. Chamfers and deep reveals express the depth and solidity of the ground floor, which houses the living spaces. A lightweight slatted timber-clad box, resting on the semi-submerged ground floor plinth, contains the bedrooms and echoes the surrounding orchard. This 'box' emerges from the trees with gaps that open in the slatted timber to reveal windows on the west façade, while to the east the timber continues over the windows creating views to the woods. The breaks in the timber slats increase as they approach the window openings, creating a rhythmic pattern that mimics breaks in the trees across the site.
Spaces have been designed to offer moments of delight for the whole family. Low windows allow for views into the orchard garden whether standing or seated while seating in the hydrotherapy pool creates a restful space to enjoy views out to the trees at the north of the site.
The new building is fully accessible with a lift and provides facilities for the specialist care required by the client including a physiotherapy pool, gym and carer's suite.
BWS Innovation & Added Value
BWS worked closely with the principal contractor and design team to identify a cost effective retaining wall solution that took into consideration the need to retain existing trees and also provided collective protection from falls during the construction period.
We undertook a specific roof access risk assessment resulting in the removal of permanent handrailing and mansafe systems whilst enhancing safe access for window cleaning.  The final solution not only reduced the capital cost, but also the cost in use by eliminating the need for unnecessary maintenance and testing.
We undertook a review of the disabled access and emergency egress arrangements.
In addition, we reviewed the format and content of the operating and maintenance manuals