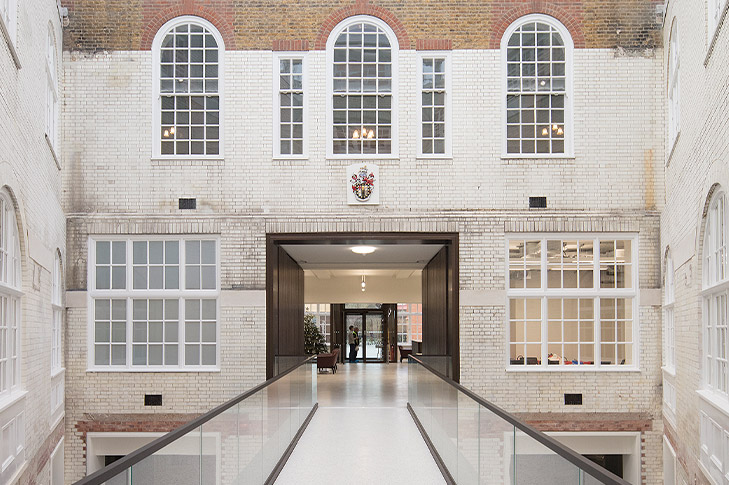 Back to Case Studies
Lambeth Town Hall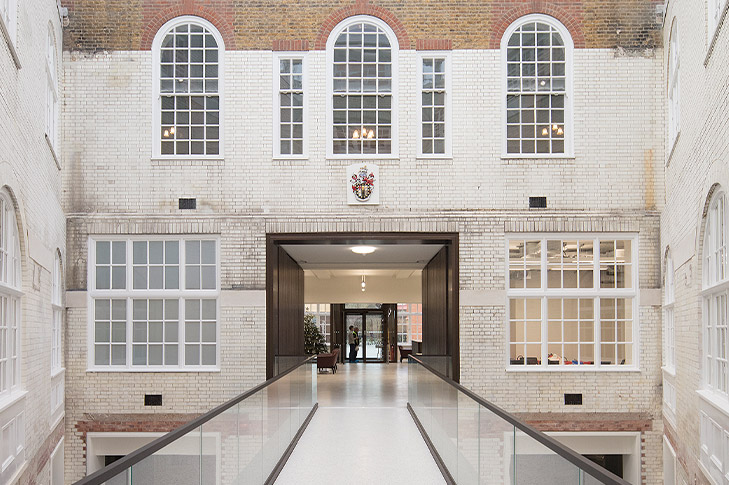 Client: Muse Developments Ltd
Architect: Cartwright Pickard Architects
Principal Contractor: Morgan Sindall Construction and Infrastructure Ltd
Completion Date: September 2018
Form of Contract: Design & Build
Approximate Value: Part of £110 million regeneration project
Project Description
Completed as part of Lambeth Council's regeneration of the existing civic site which included refurbishment and expansion of the 1908 Grade II listed Lambeth Town Hall, demolition of existing council offices and retail units, the construction of a new 11,000m2 BREEAM Excellent Civic Centre, a 200-space cycle hub/shower facilities and café, retail space, public realm landscaping and 194 new homes, 40% of which are affordable.
The works consisted of the part demolition, extension and refurbishment of existing Grade II Listed council offices, including licenced asbestos removal and replacement of mechanical, electrical and public health services, meeting the council's ambition to provide a modern, energy efficient workspace, increased public access and community use fit for the 21st century.
The design created a central atrium with ground floor link bridge under a new ETFE roof, with new public courtyard and Register Office, refurbishment of the council chamber, public assembly halls and committee rooms. A new Enterprise Centre was also created to provide meeting and office space for local start-ups and small businesses.
The works included demolition of historic ad-hoc building extensions to reveal the original building, including removal of major internal structural walls to the ground floor and basement. Listed fixtures and fittings were painstakingly restored using traditional trades and techniques: Brass door fittings, joinery, marble and terrazzo, hardwood floors, stained glass, vaulted ceilings, chandeliers, windows and scroll legged radiators were refurbished to bring the building back to its original condition.
The works also included identification and removal of licenced asbestos, management of extensive existing lead paint finishes as part of the redecoration works.
The old, inefficient and poorly maintained building services were stripped-out and replaced throughout the building, being serviced from a new centralised CHP plant room situated on the roof of the adjacent new build Civic Office. The now BREEAM Excellent building includes mechanical ventilation and cooling to improve air quality and acoustic performance ensuring the health and wellbeing of users and long-term viability as a public building.
BWS Innovation & Added Value
Close co-ordination with the principal contractor to continually revise and manage the site logistics plan to maintain vehicular access, including emergency access and public means of escape through the site from the rear of an adjacent nightclub (The Electric) and access to adjoining private residential dwellings affected by road closures.
Redesign of the existing safe access strategy to minimise cost in-use by providing collective protection for internal and external maintenance whilst working within the constraints imposed by English Heritage and the client's Conservation Officer.
Co-ordination of pre-construction design within a large complex professional team to eliminate many of the historic workplace risks, including maintenance of the building and associated services, roof access, plant maintenance and window cleaning strategy.
Development of a lead management plan in relation to extensive existing paint finishes.
BWS provided two free CDM CPD presentations to Cartwright Pickard Architects.
Comprehensive digital, secure on-line and hard copy Health & Safety File and associated Operating & Maintenance Manuals were delivered on time.
Successes & Achievements
AJ Retrofit Awards – Listed Building (shortlisted)
AJ Architecture Awards – Refurb of the Year (shortlisted)
Building Awards – Refurbishment Project of the Year (shortlisted)
Constructing Excellence SECBE – Preservation and Rejuvenation Award (winner)
NLA Awards – Conservation & Retrofit (shortlisted)
RICS Awards (shortlisted)