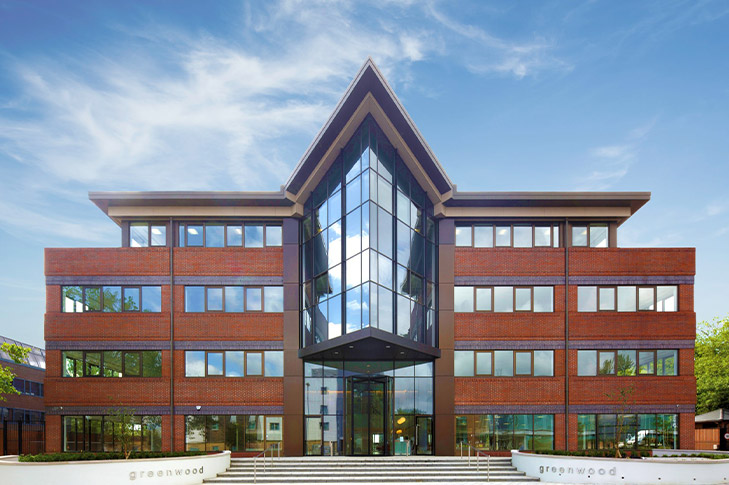 Back to Case Studies
Greenwood House, Bracknell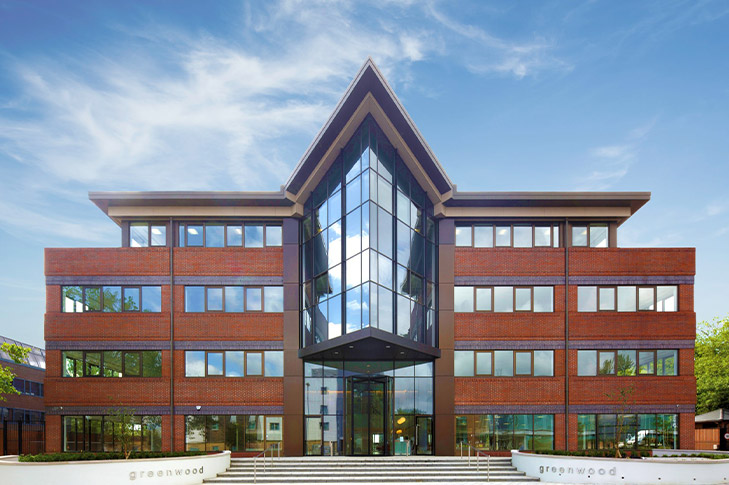 Client: Savills IM / Canmoor
Architect: Hale Architects
Principal Contractor: Valco Ltd
Completion Date: July 2015
Form of Contract: Design & Build
Approximate Value: £5.5 million
Project Description
Refurbishment and fit out of An existing 80,000 Sqft office space, including reconfiguration of the entrance atrium, replacement of the roof, cycle storage, shower area and new lift installation.
The works consisted of the part demolition and refurbishment of existing offices, including licenced asbestos removal and replacement of mechanical, electrical and public health services to provide a modern, energy efficient workspace fit for the 21st century.
The design reconfigured the existing central atrium by demolishing part of the original precast concrete accommodation staircase and replacing it with a new steel and glass staircase, together with part demolition of the external envelope surrounding the entrance and replacement with proprietary curtain walling. All internal finishes, including demountable suspended ceilings and toilet finishes were replaced. In addition, the external hard and soft landscaping scheme was replaced.
Old, inefficient and poorly maintained building services were stripped-out and replaced throughout the building.
BWS Innovation & Added Value
Close co-ordination with the design team and principal contractor with respect to temporary support and safe systems of work to demolish the existing external walls and internal reinforced concrete staircase.
BWS undertook an initial building survey, including retrieval and digitising of existing facilities records to form the basis of the client's pre-construction information supplemented with co-ordination of additional surveys, including asbestos R&D survey.
Redesign of the existing safe access strategy to minimise cost in-use by providing collective protection for internal and external maintenance.
Co-ordination of pre-construction design to eliminate many of the historic workplace risks, including maintenance of the building and associated services, roof access, plant maintenance and window cleaning strategy.
Comprehensive digital, and hard copy Health & Safety File and associated Operating & Maintenance Manuals were delivered on time.